Rolling around in the insane heat, I needed a drink.  Noooo… not that kind of drink, something icy.  Starbucks caught my eye so there I went.  The line was a bit long and in the "aisle" was this… Moon Cheese.  What on earth?  I flipped it over.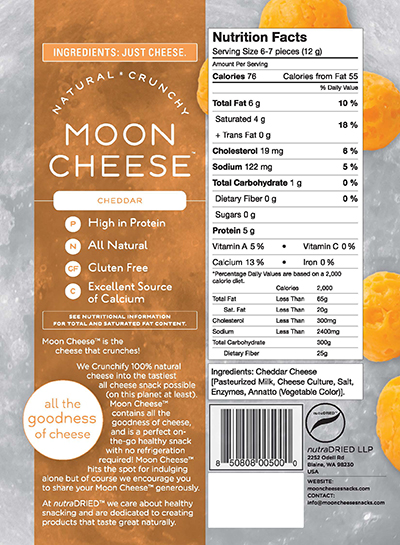 Huh… Just cheddar…  Crunchy cheddar?  Um… what..?  OK…  Soooo I bought it.  Why not?  It couldn't be that bad, right?  I love cheddar.

  The nuggets look just like the package.  When does THAT happen?!  I can't remember the last time a food looks like what it is.  This is a good sign.
I take a bite and hmm… no taste…weird… I'm so used to Cheetohs and their explosion of flavour.  Well, shoot…what's going on?  Crunch… Oh!  Cheese!  Crunch, crunch, crunch…  Yes! I taste the cheese…a slightly sharp cheddar. Wow!  It's like having curds but crunchy curds.  I really like this!  Whoever made these things is a genius.  It says gluten free but I'm not sure if there was ever gluten in cheese… IN any case there, there is that.  Also it's healthier than Cheetohs and that's gotta count for something, right?  I mean, I can actually pronounce the ingredients in this.
If you love cheese, I'm pretty sure you'll like this if you don't love it.  Yes, it's not the ooey gooey cheesy goodness of like pizza cheese but it's still pretty dang tasty AND it doesn't go bad in the heat.  All in all I love moon cheese!  I don't love the price, $5 for 2 oz. but once in a while, I'll definitely enjoy this treat.  Looking online there seems to be pepper jack and gouda flavours too but I don't eat either of those cheeses but if you do, give them a go, I bet you won't be disappointed.  I also saw online that you can make them into croutons…if I ever eat salad I might try it…who knows.  No I didn't get paid for this review.  I had actually never heard of this 'til today.  I'm glad I found them!
Let me know in the comments if you've tried it.  Is it just me or are these things dang good?  Thanks for reading and if you feel generous, send me a buck or whatever to my paypal.  It'll contribute to my get a laptop fund.  Yes I know, lame that I don't have one, but ey, I'm sure eventually I'll get one.  Until next time folks, stay cool, we ain't outta summer just yet! 😀